Welcome to Issue 75 of the SUPERIOR BOOK PRODUCTIONS newsletter!
Happy New Year, Everyone!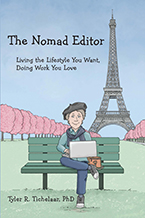 I'm proud to begin this year by announcing the publication of my twentieth book: The Nomad Editor: Living the Lifestyle You Want, Doing Work You Love. This book is for those who want to become freelance book editors like me. It tells you everything you need to do to build an editing business based on my personal and professional experiences of twelve years and counting, including having edited more than 400 books. It also includes a preface by my good friend, publishing coach Patrick Snow. If you know someone with an English degree or great writing skills looking to begin a new career, please recommend it to them. You can learn more at The Nomad Editor. It's available as a paper book at my website and Amazon and as an ebook at Barnes & Noble, Amazon, Google Play, and Kobo.
Of course, I love editing books, and this month's newsletter has some wonderful ones I've been privileged to edit. I hope you'll check out the books below to read and enjoy and to give as gifts. Here in Upper Michigan, we have at least one, if not two, more months of winter so it's a great time to curl up with a good book!
This Month's Great Book Quote:
"A reader lives a thousand lives before he dies…. The man who never reads lives only one.'"


---
Esther Bleuel's new book Getting Unstuck is an amalgamation of memoir and personal development, the one supporting the other. In twelve chapters, Esther describes her life story, from a father who rejected her, a largely absentee mother, and a hurtful stepfather to a failed marriage, and finally, finding happiness, contentment, and a meaningful career as a therapist. Each chapter of Getting Unstuck is offered as an example of the difficulties we all face in life—difficulties that tend to make us get stuck in dysfunctional relationships and unhealthy patterns that keep us from reaching our full potential. Each chapter also offers tools to help us get unstuck so we can, as the book's subtitle proclaims, experience the "joy of finishing strong."
Early in the book, Esther tells us that we will accomplish three things when we read and apply the tools offered in Getting Unstuck:
You'll become more self-aware….
You'll develop a relationship with yourself….
You'll begin to create a life that's meaningful, fulfilling, and joyful….
To read more, visit Getting Unstuck.
---
In Your Lifeonomics, Dr. Thomas John shares the areas in which you can take action to see immediate improvement in your life. Life doesn't come with a manual for success, but John has gathered together for his readers the many skills he has learned that have helped him have a successful career and a fulfilling personal life.
There is a ton of useful information in this book, and I can only touch on it all briefly. At the forefront is the need to be a leader in your life. John shares the ingredients for leadership and how to acquire them. A lot of it has to do with self-discipline and also making difficult decisions that ultimately will be to our benefit. For example, we have to look at the return on investment we receive from any activity we engage in. Some activities are just not worth the investment, and John holds back no punches in listing them, including watching mindless television, engaging in relationships that aren't right for us just for the short payoff of sex, and eating food that hurts rather than strengthens our bodies.
To read more, visit Your Lifeonomics.
---
Colonizing Trappist is the first volume in an exciting new sci-fi trilogy by Chris Shockowitz. The novel opens with Eugene Hamilton awakening aboard the ship Exo-1 after being asleep for eighty years as his ship traveled at half the speed of light to the Trappist system, where he will become the governor over five thousand humans who plan to establish a colony there.
The events that follow are science fiction at its finest as the reader is quickly addicted to learning all the details that would be required to create a colony on a new planet in a distant star system. Hamilton and his small crew explore the various planets in the Trappist system to determine what would be the most livable place for the colony. They have only four months to make the decision before another ship will arrive with the colonists.
What the crew of Exo-1 finds is both reassuring and alarming. There are several viable locations to live in where the air and water are good, but there are places where dangerous plants might threaten them, they discover an amphibian race in the ocean that isn't happy about their presence, and worst of all, they learn a former intelligent civilization in the system was destroyed in recent years by an unknown enemy.
To read more, visit Colonizing Trappist.
---
Jessica Goering has gone through one of a parent's worst nightmares and lived to tell the tale. Fortunately, her son also lived, but there were moments during his journey through anorexia that made future possibilities so frightening that as I read about them, they sent shivers down my spine.
Most children who experience anorexia are girls, so to have her thirteen-year-old son suddenly decide he was fat and refuse to eat was the last thing Jessica expected. Almost as bad was that his anorexia began while he was away for the summer visiting his father. When Jessica learned about his eating disorder, she flew to get him and was overwhelmed by the sight of how severely malnourished he had become in just a couple of months. Although horrified, she knew she could not limit her focus to just the exterior disarray she saw but instead needed to focus on reversing the situation and finding ways to get her son to eat and change his internal way of thinking about his body.
To read more, visit Reversing Your Child's Eating Disorder.
---
In James W. Barry's new novel, A Dream of Steam, readers follow two brothers, William and Thomas McGrath, as they struggle to keep afloat their sawmill business in the 1890s in Michigan. William operates the sawmill and wants to switch to steam power, but Thomas, who is a captain of a ship that brings their product to market, is reluctant to take the risks involved in securing a loan to make the transition to steam power. Eventually, William convinces him, and the two travel from DeTour in the Upper Peninsula to Detroit to get funding from a bank, little realizing they are setting out on the adventure of a lifetime.
Finding a bank to give them a loan is difficult enough, but Thomas had no idea he'd also have to chase after his brother in the street when William thinks he spots his wife, who abandoned him some years before. William's heart has never fully healed, and now he begins dreaming of ways to get his wife's affections back. In addition, the two arrived in Detroit on Thomas's ship, which means the ship's crew is also in Detroit. The crew members want to have a good time, but they soon find themselves getting into a mix of trouble.
To read more, visit A Dream of Steam.
---
In What the Magic Means, Terry J. Wheeland, Jr. explores the magic of Disney and how and why it continues to influence us. Whether or not you're a Disney fan, there's no denying that few people have had the impact Walt Disney has had upon the world and few multi-media empires have had so extensive a reach. The reason for Disney's success is its magic, and for the countless legions of Disney fans, that magic has been life-changing.
In his book, Wheeland gets to the heart of the matter of what the magic means to our personal lives by interviewing ten significant Disney fans. Some like Kara Moll are simply that—fans who love Disney so much it has permeated all aspects of their lives. Others like Serena Lyn have moved their families to Orlando to be closer to Walt Disney World. Many of the interviewees have worked for Disney, including Disney Legend Tom Nabbe, who was hired by Walt Disney himself to play Tom Sawyer on Tom Sawyer's Island; Margaret Kerry, who was the original model for Tinker Bell in Peter Pan; and Lee Cockerell, who served as the Executive Vice President of Operations for Walt Disney World.
To read more, visit What the Magic Means.