Welcome to Issue 70 of the SUPERIOR BOOK PRODUCTIONS newsletter!
Happy February, Everyone!
I love winter for its quiet, for its long winter evenings I can spend writing. I'm busy working on the next three or four books I plan to publish. More on that in future newsletters.
For now, I'm happy to announce I've started the New Year right by bringing out the ebook version of Haunted Marquette. It's available at: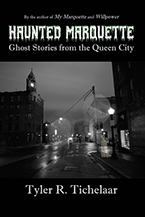 Haunted Marquette includes more than forty tales of haunted places in Marquette, Michigan, including houses, businesses, cemeteries, and places along the lakeshore. From ghostly ladies in long white gowns to sled-dog mail deliverers and orphan children, there are plenty of ghosts in these pages to keep you pondering whether the paranormal is real. Read the evidence and then decide for yourself.
I wish you many cozy winter evenings of reading good books. If you can't find one to read, I have some wonderful suggestions for you below.
Stay warm, curious, and adventurous!
This Month's Great Book Quote:
"O utside of a dog, a book is man's best friend. Inside of a dog it's too dark to read."



— Groucho Marx
---
Banana George: Don't Wait for Life to Happen, Make It Happen is the biography of one of the most inspiring and colorful celebrities of recent years. Written by the Blair family (his wife and daughters) along with Karen Putz, author and fellow barefoot water skier, this biography chronicles all of George's life-affirming ninety-eight years.
Readers journey with George from his childhood and college years to his first marriage and becoming a father and entrepreneur. We experience with him his debilitating back problems and undergoing surgery for them, and then, we are thrilled when he discovers the wonderful world of barefoot water skiing. Ultimately, George was the world's oldest barefoot water skier, but he was also a natural showman. He was always busy sporting his signature yellow clothes; passing out bananas; appearing on major talk shows like The Oprah Winfrey Show, Late Night with David Letterman, and Live with Regis and Kathy Lee; traveling around the world; and meeting famous people. He even became a true ambassador of goodwill between nations.
After reading this book, I came to love Banana George and his zest for life.
To read more, visit Banana George.
---
In her new book Feeling Joy Again: Finding Your Light in Your Darkest Times, Lynnette Otero provides comfort and hope to those who are in the midst of turmoil in their lives. While she tells her personal story of the loss of her husband and her journey through grief, the advice and tools she offers could help anyone in any situation that includes coping with a loss, depression, disappointment, or facing other obstacles and adversities that make people feel like giving up on life.
Lynnette divides the book into three sections. The first, "Till Death Do Us Part," tells the story of how she met her wonderful husband, the life they had together, and then how her husband was diagnosed with cancer that sent their world into a tailspin. The section ends with Lynnette caring for her husband through his illness until his death. In the second section "The Fallout," Lynnette describes her journey of grief and pain and how difficult it often was just to get by from day to day, especially while raising her blended family of children as a single mother. The last section "Feeling Joy Again" gives practical advice for moving beyond grief, disappointment, or depression, and reclaiming your life.
To read more, visit Feeling Joy.
---
In Adoring God by Keith Knell we get a look at the true attributes of God. We all have a concept of who God is, whether it's an old man in a white robe on a cloud, or a loving father, or the judge of sinners. Keith Knell, however, asks us to reassess who we think God is. Relying heavily on Scripture—the most reliable source for information about God—he walks readers through God's many attributes, separating the myths and misconceptions from what the Bible says and reminding us not to make the error of seeing God as having human attributes because we are made in His image and not the other way around.
As Keith states early in the book, "Ultimately, my goal in this book is not to teach you how to read and understand the Bible better, but for you to get to know God better, to understand Him more fully and love Him more deeply." Keith wants us to reread the Bible, asking ourselves in the process, "What does this passage reveal about God?" After all, Keith points out, "The Bible is primarily about God unveiling and revealing parts of who He is!"
To read more, visit Adoring God.
---
Move over Rudy—Dr. Kenneth Polke is here to tell his own inspiring story of overcoming obstacles to play in the NFL in his new book Conquering Your Adversities.
In this hybrid of a memoir and a self-help book, Dr. Polke shares his inspiring journey, from growing up on the Mafia-ridden streets of Cleveland in the 1950s and going to a Catholic boys school to watching the nation erupt in violence during the Civil Rights Movement and the Vietnam War, seeing his neighborhood of Collinwood become known as Bomb City, USA, and all the while, staying focused on walking the straight and narrow path that would lead him to his dream of playing in the NFL.
I'm not a football fan, but I always love a good rags-to-riches or dream-come-true story and every page of this book is full of both. One thing I really enjoyed about Conquering Your Adversities is that Dr. Polke contrasted his personal stories with keeping a pulse on what was happening outside his private sphere—in his city and in the nation. As a result, the book was filled with nostalgia about America's best days in the decades following World War II, as well as some of its most turbulent times.
To read more, visit Conquering Your Adversities.
---
In Approaching the Bench: Tales of a Personal Injury Lawyer, attorney Jan Weinberg shares some of his most fascinating cases over a career that has spanned decades. Beginning with stories of his time at Harvard Law School—years marked by anxiety and skipping classes—to his first assignment to a client while still a law student, and then being a partner in a law firm and finally practicing on his own in Hawaii, Weinberg offers a revealing portrait of not only the clients, judges, and opponents he faced in the courtroom, but also a look at how being a lawyer at times affected his personal life.
Anyone who loves good courtroom drama will find much to enjoy in this book. There are fascinating details about how Weinberg researches his cases and finds precedents for his arguments; there are female clients more interested in hitting on him than having him defend them, and there are some heart-wrenching stories of clients who desperately needed someone to stand up and fight for their rights, and Weinberg was able to do that for them.
To read more, visit Approaching the Bench.
---
Nearly a century ago, a brilliant man, Napoleon Hill, decided to study how the most successful people in America—people like Henry Ford, Thomas Edison, and Andrew Carnegie—came up with their great ideas and became successful entrepreneurs and businessmen. What he discovered has astonished people ever since and has inspired thousands to believe in the power of thought. As the years have gone by, Napoleon Hill's classic Think and Grow Rich has inspired such people as Norman Vincent Peale and Jerry Hicks. Not the least of those inspired is Ray Higdon, and now Higdon has written a modern-day version of Think and Grow Rich with his new book Vibrational Money Immersion: Think and Grow Rich for Network Marketers.
Higdon quotes extensively from Napoleon Hill, but what makes this new book stand out from Hill's classic is that it takes Hill's ideas and applies them to the twenty-first century and specifically the field of network marketing as a means for attracting the kind of success and money people desire. Higdon also shares many of his personal stories of how believing in positive thinking and applying it have helped him to achieve success.
To read more, visit Vibrational Money Immersion.
---