Welcome to Issue 68 of the SUPERIOR BOOK PRODUCTIONS newsletter!
Happy Halloween, Everyone!
I'm really in a Halloween mood this year since I'm releasing my new book Haunted Marquette: Ghost Stories from the Queen City this month. If you live in the area, you're invited to attend my book release party:
Where: Marquette Regional History Center, Marquette, Michigan
When: Wed., October 11. Presentation 6:00 p.m., Book Signing 7:00 p.m.
Cost: Free admission. Books are $19.95 plus tax if you wish to purchase one.
Partial proceeds from sales of Haunted Marquette at the event will go to the Marquette Regional History Center. You might even meet a ghost yourself there.
Here's a description of Haunted Marquette:
---
Over Forty Tales of Ghosts and Paranormal Experiences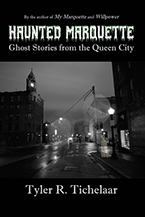 Founded as a harbor town to ship iron ore from the nearby mines, Marquette became known as the Queen City of the North for its thriving industries, beautiful buildings, and being the largest city in Upper Michigan. But is Marquette also the Queen of Lake Superior's Haunted Cities?
Seventh-generation Marquette resident Tyler Tichelaar has spent years collecting tales of the many ghosts who haunt the cemeteries, churches, businesses, hotels, and homes of Marquette. Now, separating fact from fiction, he delves into the historical record to determine which stories may be true and which are just the fancies of frightened minds.
Hear the chilling tales of:
The wicked nun who killed an orphan boy
The librarian mourning her sailor lover
The drowned sailors who climb out of Lake Superior at night
The glowing lantern of the decapitated train conductor
The mailman who gave his life for the U.S. mail
More ghostly ladies in floor-length white gowns than any haunted city should have
Haunted Marquette opens up a fourth dimension view of the Queen City's past and reveals that much of it is still present.
---
I hope you'll join me in celebrating Halloween at the History Center on October 11.
Haunted Marquette will also be available at my website www.MarquetteFiction.com and at Amazon and in local bookstores beginning on October 12.
And, of course, I hope you'll check out all of the great new books below. I promise none of them are very scary, and they are all very entertaining and enlightening. Enjoy!
This Month's Great Book Quote:
"I f you want your children to be intelligent, read them fairy tales.
If you want them to be more intelligent, read them more fairy tales."



— Louis L'Amour
---
Michael Andrew's new book The Efficiency Playbook is perfect for anyone who finds that there are never enough hours in the day to get everything done that you want or need to do. Consequently, most of us have tried multi-tasking only to find that it leads to distraction, errors, and taking up more time. A better answer lies in trying to be as efficient as possible, but how to be efficient sometimes eludes us. Fortunately, Michael Andrew has made the study of efficiency a lifetime pursuit.
We've all seen movies or TV shows where an efficiency expert is hired only to have the staff revolt because of his inhumane practices, but The Efficiency Playbook takes a different approach, showing us how to be efficient in every area of our lives so that we will benefit by finding we have more free time to enjoy or pursue other goals.
One of the most effective pieces of advice I found in these pages was that when you have to do something, you should do it rather than putting it off; if you don't do it, you're still thinking about needing to, so you're just wasting energy thinking about it, which is far from efficient. I've found this to be the case when needing to pay a bill or make a difficult phone call. Andrew is correct that it's better not to procrastinate but just to do the necessary task because then you'll feel better and freer sooner.
To read more, visit The Efficiency Playbook.
---
In her new memoir, Strengthening Your Identity While the Shadow Is in Front of You, Mwati Mwila shares her life story of experiencing diversity, finding her identity, and learning how to be strong in the face of turmoil, including being diagnosed with bipolar disorder.
Mwati is a true citizen of the world, and readers will be fascinated by and possibly envious of her many global adventures. Born in Zambia, Mwati moved, while still a young child, with her parents, two older sisters, and younger brother to Australia and New Zealand where she attended school. Even at a young age, she was aware that she was different from her classmates because of her skin color, and at times, she experienced racism and prejudice as a result. These experiences led her to question what it meant to be African when she was not in her native country.
Not all of her experiences were negative, however. Mwati shares many stories of her travels and also of the many good times she had as a child with her siblings and classmates. In later years, she would learn the power that those memories had to help her stay strong, and she would also appreciate how the years of traveling kept her family members tightly knit so that they became close and supported each other each time they were faced with adapting to a new culture and environment.
To read more, visit Strengthening Your Identity.
---
Calming Your Chaos by Elisa Hawkinson offers help for cluttered lives. Are you tired of seeing that messy room but you never get around to cleaning it? Do you feel overwhelmed just by the thought of organizing your closet or kitchen, and you don't even know where to start? Then you've found the right book. Calming Your Chaos is written by someone who has not only been there, but she's been there so many times that she's developed multiple simple and practical strategies for getting organized, clearing out your clutter, and taking back control of your space and life.
Elisa Hawkinson learned her organizational skills after moving more than twenty times. Besides having to train a husband and two sons to stay organized, she has had to pack and move continually for her husband's job. She also knows about downsizing when the children grow up and leave home. She knows about downsizing further when your spouse passes away. She knows about staying organized in someone else's space when you remarry, and she understands the dynamics in families that result in one spouse's clutter becoming frustrating to the other, who may perhaps see her husband's mess of tools, but not her own overflowing closet. Elisa has been so successful at helping people get organized that she has become a professional organizer with her own business.
To read more, visit Calming Your Chaos.
---
In Prescription for a Happy Retirement, Dr. James Bash explores why so many people have difficulty once they retire, often feeling sad and disappointed that retirement wasn't the fun time they expected. His message boils down to: Don't let this happen to you. And then he gives advice on how to prepare for retirement so it can be a meaningful, fun, and enriching experience like it should be.
As a doctor of osteopathic medicine, Dr. Bash had plenty of opportunities to communicate with retired people who were his patients and to get their advice and perspectives on being retired. He has also been retired for several years now himself, and he quickly learned that unless he had a plan for his retirement, he would suffer from boredom and melancholy. Too many people do not plan for their retirement, so they are not prepared for it, and often they end up retiring earlier than expected due to unforeseen circumstances, which leaves them floundering with not knowing how to adapt. In Prescription for a Happy Retirement, Dr. Bash shows that people must prepare both financially and mentally for this period in their lives, deciding how they want to spend their time and finding activities to occupy their minds and hands to keep them healthy and happy.
To read more, visit Prescription for a Happy Retirement.
---
Susan Teton Campbell has experienced quite a ride as she has sought answers to food-related health issues that plague millions of Americans, and now she offers those answers and loads of practical and inspirational advice in the pages of her new book Eating as a Spiritual Practice: Discover Your Purpose While Nourishing Your Body, Mind, and Soul.
Think of Eating as a Spiritual Practice as a two-for-one deal. First, you get the incredible story of Susan's life journey, and then you get a plethora of delicious and healthy recipes. But perhaps most importantly, mixed throughout those two sections is tons of good advice and eye-opening information about the value of proper nutrition and the dangers of processed and junk foods.
Susan's journey to becoming focused on what we eat really began when she realized her son's body had an intolerance to sugar and how, despite her best efforts, when that got out of control, it also left him open to addiction to far worse substances. Susan set out on a lifelong mission to discover how to reverse her son's health issues, and in the process, she became aware of the severe malnutrition so many of us experience because of the packaged, processed foods we eat.
To read more, visit Eating as a Spiritual Practice.
---