Welcome to Issue 63 of the SUPERIOR BOOK PRODUCTIONS newsletter!
Happy Holidays, Everyone!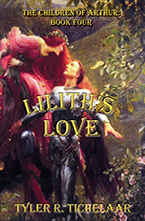 I'm happy to say that my newest book Lilith's Love: The Children of Arthur, Book Four is out in time for Christmas. This is the fourth of five books in the series. In it, Adam and Anne Delaney, descendants of King Arthur, are finally reconnected with their kidnapped children eighteen years after the kidnapping. And they have the final showdown with Lilith, who has been persecuting King Arthur's descendants for fifteen centuries, but not before they discover the role Lilith played in Dracula's story and also Lilith's own story about what really happened in the Garden of Eden when Adam rejected her as his wife.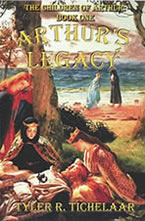 To celebrate the publication of Lilith's Love, I have a special offer for anyone who hasn't yet started reading the series. I'm offering the Kindle version of the first book in the series, Arthur's Legacy, for the special price of just $0.99 cents instead of the regular $6.99. Imagine just 99 cents for a 400+ page novel that will give you hours of entertainment. So download it now. I just ask that after you read it, if you like it, you write a sentence or two as a book review at Amazon to generate more interest in it and the rest of this revolutionary historical fantasy series.
For more information about The Children of Arthur series, visit www.ChildrenofArthur.com.
And if you would like an autographed paper copy of any of my books, you can find me at the TV6 Christmas Craft Show at the Superior Dome in Marquette, Michigan this weekend, December 2-4—Friday, 5-9 p.m., Saturday, 10-6, and Sunday 11-4.
More great books are below—all wonderful gifts for the holidays.
And a very merry holiday season to you all!
This Month's Great Book Quote:
"Do give books—religious or otherwise—for Christmas. They're never fattening, seldom sinful, and permanently personal."


---
In No Such Thing as Death, Sarmina Rutter takes readers on a personal, heartfelt, and empowering journey through the grief she experienced in losing her husband and then the amazing life-affirming moments that followed when he revealed to her that he was not dead at all but simply existing on another plane.
Sarmina met her husband, Kenji, after she moved to Hawaii. Kenji was from Japan and he was a free spirit who loved life and taught Sarmina how to enjoy it as well. Together, they had a daughter and everything seemed to be going wonderfully until it was discovered that Kenji had a life-threatening tumor. I won't go into all the details here—Sarmina tells them in the book—but ultimately, Kenji died and Sarmina was left grieving.
And then some amazing things happened that cannot be explained in any way other than to believe that Kenji was trying to communicate with her from beyond the grave. One of them was that somehow Kenji's Facebook account began "Liking" photos Sarmina posted to her own account. After making certain Kenji's account was not being hacked, Sarmina had to believe her husband was communicating with her.
To read more, visit No Such Thing as Death.
---
Healing Your Dog Naturally is a revolutionary new book by Nicole Gabriel that will make you rethink how you care for your dog. It will teach you how to be proactive about your canine's healthcare and by extension rethink your own eating and medicinal habits.
While Gabriel's background is not in veterinary medicine, she has plenty of experience caring for sick dogs and loving them. This is a woman who deeply bonds with her pets and wants the very best for them. After she lost one of her Shar Pei dogs to an illness she believes was caused by a required vaccination in order for her to move to Hawaii, she decided to begin researching vaccinations and everything else about caring for one's dog. Now she has compiled all that research along with her personal experiences and successes into this new book, which may long be overdue considering the health and natural foods revolution going on for humans. I have to agree with Gabriel on this point: If we are all becoming more health and nutrition conscious about our own bodies, shouldn't we extend that same care and concern to our pets?
To read more, visit Healing Your Dog Naturally.
---
Proposition Selling is a new book conceived by a mastermind—two heads put together to create one idea—or in this case—one book. Coauthors Tom Piscitelli and John Sedgwick have put their combined eighty-plus years of sales experience together, and the result is this 300-page, information-filled, surefire roadmap to becoming a great salesperson.
Of course, these two veteran sales coaches know that it also takes a special person to be effective in sales. Early in the book, they write, "If you are the type of person who embraces, who thrives on, unique challenges, then you can love selling even more than you do now. The effective mindset is to emphasize the uniqueness of each sales interaction and de-emphasize the routine aspects of what we have to get done." This book is not for the people who like routines and hate the unpredictable, but for those who love to sell and do something well that they enjoy. If you're that type of person, then Proposition Selling can provide the tools you need to make a huge difference in your career.
To read more, visit Proposition Selling.
---
Discovering Yourself in New Zealand tells the tale of how Pallas Hupé Cotter and her family embarked on an adventure in 2011 after her husband was offered a job in New Zealand. Pallas, who had been a longtime news anchor, decided she and her family would take the plunge and move halfway across the world from Sacramento, California to Wellington, New Zealand. Pallas had long been moving at a frantic pace, working long hours at her job as well as being a wife and mother to two boys. She realized it was time to slow down, reinvent, and rediscover herself, so she embraced this move to New Zealand as her opportunity.
As Pallas states early in the book, "Life is about saying yes, going through open doors, and getting involved, but it's also about knowing how to downshift to a gear that allows you time to reflect on your journey. Whatever gear is right for you."
Pallas learned how to shift gears in New Zealand where the pace of life was a lot slower, and this book is her invitation to the reader to downshift with her.
To read more, visit Discovering Yourself in New Zealand.
---
In Trusting Your Inner Physician, one happily married couple, Drs. Ina and Glenn Nozek, offer their personal prescription, which is really a self-prescription, for success and happiness. Through a series of chapters and exercises, the Nozeks walk readers through how to improve their lives in numerous ways, and it all boils down to listening to what they call "your inner physician," which might be interpreted as intuition or an inner knowing of what is right for you. Not everyone is the same, so not everyone will find that eating the same foods will make you healthier or that pursuing the same kind of career will make you successful. But with the tips the Nozeks provide in this book, you can figure out what you can do to make a better life for yourself.
Trusting Your Inner Physician takes a holistic approach to happiness by encouraging the reader to look at all aspects of his or her life and find balance among them. The Nozeks feel that maintaining your physical health is a top priority, but they also understand that physical health is not just about nutrition and exercise; it must also encompass your emotional and mental health.
To read more, visit Trusting Your Inner Physician.
---
The Mystery of Spring-Heeled Jack: From Victorian Legend to Steampunk Hero by John Matthews is a fascinating look at a sometimes overlooked character who has had a significant impact on sensational and Gothic literature as well as the public's imaginations and fears for nearly two centuries now. Matthews, who is perhaps best-known for his many books on the Arthurian legend, has compiled nearly every known reference and possibility related to Spring-Heeled Jack into this book.
Those not familiar with Spring-Heeled Jack will wonder why they have never heard of him. He first appeared in London and its surrounding areas in 1838 and continues to be sighted every few years, it seems, both in England and now the United States and perhaps even in a few other places around the globe. His origins lie in several startling attacks he made upon unsuspecting women in the early Victorian period. He is frequently described as dressed in black, wearing a cape, having long fingers, pointy ears, and eyes that glow red or blue. His most famous feature, however, is his amazing ability to spring or leap enormous distances, sometimes twenty feet from the ground to a roof or even thirty feet from one rooftop to the next.
To read more, visit The Mystery of Spring-Heeled Jack.
---