Welcome to Issue 62 of the SUPERIOR BOOK PRODUCTIONS newsletter!
Happy Halloween, Everyone! Since I've always considered myself a bit of a Gothic Wanderer, obviously it's one of my favorite holidays. Therefore, my publisher Modern History Press and I are giving away eight copies of my book The Gothic Wanderer: From Transgression to Redemption this month at Goodreads.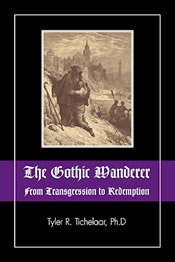 The deadline to enter is Friday, October 21, so act quickly.
The Gothic Wanderer is an exploration of Gothic literature from 1794 when the phenomenal The Mysteries of Udolpho was published, through classics like Frankenstein (1818) and Dracula (1897), and on to modern Gothic novels like those by Anne Rice and the Twilight series. There are even some surprising Gothic elements in such books as A Tale of Two Cities (1859) and Tarzan of the Apes (1914) that I explore.
So get your Goth on and sign up for the giveaway. You can do so at Goodreads.
If scary books, however, aren't your style, there are plenty of other wonderful and life-affirming books listed below in this month's newsletter plus a couple of shout-outs to a couple of authors previously featured in this newsletter who have been up to some amazing things.
This Month's Great Book Quote:
"Good writing is supposed to evoke sensation in the reader—not the fact that it is raining, but the feeling of being rained upon."


---
Fixing What Already Works by John F. Dullea and Alvaro E. Espinosa is the perfect combination of entertainment and information for readers seeking to improve their businesses, receive valuable information, and learn what to do in an engaging and insightful format.
Written as an info-novel, the storyline takes readers through the processes that one dedicated employee, Mike Preston, develops and utilizes when he takes on a new position at his company, Sanders Electronics, as the new IOT Business Unit Manager. Mike is a devoted and likeable employee who wants to do what is best for the company, but he finds himself up against several obstacles as he tries to improve the company's bottom line. Those obstacles include: unhappy customers, coworkers who feel threatened by him and do not want to cooperate with his requests for help, employees who want to help but can't because their bosses are being uncooperative, poor organization and planning in the factory, equipment that frequently malfunctions and destroys profit, some poor employee morale, and financial analytics that are not reporting the information Mike needs to determine whether the company is truly making a profit.
To read more, visit Fixing What Already Works.
---
Gus—husband, father, employee for a non-profit—hates his life. Nothing seems to go right for him. His clients are obnoxious, his wife is distant, his kids don't seem to understand him. Sometimes when driving home, he thinks about giving the steering wheel a quick jerk that will put him in the path of a semi-truck so he can end it all.
We've all been there, and author Jeff Caliguire understands that. And he also understands that "Every once in a while, we sense there's a voice calling us out of the valley and into the mountains." That's why, in his new book The Habits of Hope, Caliguire lets Gus hear that voice. For some of us, that voice tells us we have a bigger purpose; it might be the voice of God, it might be the voice of someone who believes in us; it might be our own self-confidence coming to the surface. For Gus, it's the voice of an old mentor from his childhood who teaches him not only about hope but how to practice it through daily habits.
Gus first reconnects with his mentor when he receives a letter from him.
To read more, visit The Habits of Hope.
---
Keri Slater would seem to have the perfect life—a hunky husband, Logan, and two adorable children, Lacey, age five, and Cole, age three. The family also has a support network of extended family, and just a few houses down the street live their best friends, O.B. and Candy.
But no one's life is perfect. Logan is an Army medic, and O.B. is also in the military, and the two are about to be deployed to Afghanistan for a tour of duty. The separation is difficult for both Keri and Candy, but they have each other for consolation.
Or at least they usually would. This time, things are different because the day before the deployment, Keri finds out a terrible secret that could destroy all their lives. On Saturday morning, after bringing her daughter to dance class practice, Keri returns home for something she forgot, and from the front door, she suddenly finds herself overhearing a conversation in her bedroom between her husband and her best friend, Candy.
To read more, visit Allegiance.
---
If you're experiencing conflict in the workplace because of miscommunication, then OASIS Conversations by Ann Van Eron, Ph.D., may just be the book you need to make peace and move everyone forward beyond the communication barriers. But what if you're having a conflict not in the workplace but in communicating with your spouse, your parent, your child, your sibling, your hairdresser, your doctor, or any other human being on the planet? Does the mere thought of trying to talk to certain people make your blood boil? Then the secret of how to have OASIS Conversations will benefit you as well.
Van Eron understands the frustration of miscommunication, and she has developed a means to overcome it. As the founder and principal of Potentials, a global coaching and organization development consulting firm, Van Eron has coached business leaders and their teams in how to create positive environments for over twenty-five years. She knows that only when people have open-minded conversations can there be positive and productive results. And her advice can be applied not only to the workplace but also to the home and everyone you need to communicate with.
To read more, visit Oasis Conversations.
---
In his new book, Heart to Heart Journey with God, Michael Bluemling, Jr., offers readers a gift—a gift that was first given to him in unexpected circumstances by an amazing young woman who sat beside him on a plane and had no idea what an impact she would have on him. When he noticed her journaling, he happened to catch a glimpse of what she was writing down—words concerning her thoughts about God and her spiritual journey—which inspired him to begin journaling as well. Now Michael wants to share the power of journaling with his readers as a way to have a conversation with God.
For Michael, writing serves as a way to meditate on his relationship with God as well as work out a better understanding concerning life's dilemmas and how the Word of God and our faith can help us through the obstacles we face. The fruit derived from the journal entries he wrote is now offered to his readers in this book.
Heart to Heart Journey with God is comprised of 180 short one- to two-page entries on various topics that confront us all in our efforts to be good Christians.
To read more, visit Heart to Heart Journey with God.
---
Several years ago I had the honor of editing Marilyn Schoemann's positive thinking book GO! How to Speak, Think, and Act to Make Good Things Happen. Now Marilyn continues to innovate in positive, green light ways by producing a new app for her card game BOFF-O! Among the many benefits you can gain from playing BOFF-O! is overcoming writer's block. It's a great way to get unstuck on whatever issue you have and find new ways to innovate. You can get a free download currently at Apple and Android stores or visit Marilyn's website for more information.
One of my earliest editing clients was Josh Wade, author of Becoming a Stronger Person and owner of Team Wade Fitness. Josh was just starting out in his bodybuilding career at that point. Well, guess what? Not only has he now won several bodybuilding contests, but last month he competed in the Mr. Olympia contest. His book is a mix of memoir, self-help, and tips on bodybuilding. If you want to be a stronger person, it's worth checking out as are some very impressive pictures of Josh: http://www.allmaxnutrition.com/athletes-type/josh-wade/. Congratulations on all your success, Josh. You're a champion in our book!
---